Pro
// Tuesday, 02.01.2018
ERC signs Ville Koistinen
ERC Ingolstadt has signed Ville Koistinen. The 35-year old offensive defenceman joins from SCL Tigers (NLA) has agreed on a contract until the end of the season 17/18.
"To have a player like Ville Koistinen in our line-up is a real bonus for us", says Larry Mitchell, Sports Director of ERC Ingolstadt. Koistinen is a technical skilled defender with a heavy wrist shot. He can play point in the powerplay and brings a lot of experience of the world's best leagues into the locker room.
After having impact on the Finnish Liiga, Koistinen went overseas and played in AHL and NHL. Having experienced the SHL and KHL, the defender played in Switzerland for the last five seasons. He has been top-defender of his Swiss teams.
Koistinen chose #10 for his Panther-jersey.

Dies könnte sie auch interessieren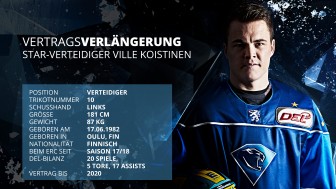 Thu, 17.05.2018 // Pro, Fans
Contract extension: Ville Koistinen
Star defender of the Panthers ...